Our Story
The Early Years
Born in Liverpool in 1971 it was only 6 years before Paul was flying solo. It was this point that would set out the next three and a half decades of experiences for Paul in the world of aviation.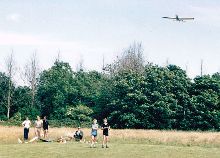 After going solo Paul spent every opportunity he could at his local field, operated by South Liverpool Model Flying Club, where he soon became a very popular club member. By the age of 14 Paul was chief test pilot, club instructor and was trusted by some of the most senior members to fly their large multi-engined scale bombers.
It wasn't long before Paul's thirst for flight had moved beyond fixed wing powered models at the club to gliding at some of the best slope soaring sites in Wales, this allowed him to go flying when the strong wind conditions would not permit flying at the clubs flat field.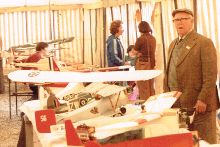 Paul's interest in flying was encouraged by both his grandad Tom, who was a pioneer in free flight and his dad Keith, who amongst other achievements, had the privilege to display at the World Model Aircraft Championships held at RAF Woodvale in 1978. Along with Dave Nieman Keith was one of the first pilots to demonstrate radio controlled model helicopters to the public with their Kavan Bell Jet Rangers.
By the age of 17 he had mastered the skill of flying rotary wing aircraft and enjoyed pushing his 'Kyosho Concept 30 DX' to the limits.
Paul's piloting ability had started to be noticed by several companies in the modelling industry including Steve Webb Models, Kalt Helicopters, Glen's Models, NHP, Weston UK and Ripmax to mention just a few.
Paul's first public display, in 1989, took place at Woodvale where he flew an 8ft Halifax bomber for Malcolm Gittins and a Soar Ahead Sailplanes 'Thing' (delta). From there Paul went on to to display hundreds of models at shows all around the UK and eventually the World.
Not satisfied with operating just small aircraft Paul decided to take full size flying lessons and in 1995 he gained his Private Pilots License (PPL). See more about Paul for Full Size experience.
Leaving his Liverpool based job in 1996 as a PSV electronics engineer, he found himself heading for London and a new job as customer services manager at Ripmax Plc. Ripmax at the time were the largest  UK distributor of RC products. During this 4 year period he teamed up with fellow employee and long term friend Gary Rawlings to form the Ripmax Flying Display team.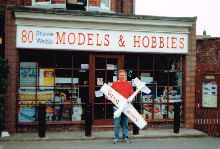 After leaving Ripmax, Paul returned to Liverpool and worked for Steve Webb Models and Hobbies where for 18 months he was a key member of the team and headed up the helicopter department, aptly named "helicopter corner".
With 25 years experience in flying all types of RC models and knowledge of the trade and retail side of the industry, Paul was looking for a new challenge....

Time To Teach
Towards the end of 2001 Paul accepted the position of operations manager and chief instructor at Aerial Training Services (ATS) who had been teaching students to fly since 1992 and were based at Dunnings Farm on the Wiltshire / Hampshire border. Coinciding with Paul joining, ATS relocated their operations to Draycot Farm Aerodrome near Swindon which allowed future expansion of the business.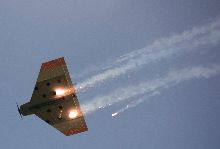 As well as managing the day to day operations of the ATS and teaching students to fly Paul was also one of only two pilots deemed experienced enough to pilot the 'Gnat', a modified target drone flown with explosive pods fitted to the underside and shot at by 12-bore shotguns. See Corporate Events page for more details.
ATS continued to develop their training under Paul's guidance whilst starting to explore other avenues of business. Their interest in aerial photography lead them to begin development of early camera helicopters and mast photography, which ultimately became their main line of business.
A few years on, the opportunity arose for Paul to purchase the training arm from ATS operating independently from them. Paul Heckles School of Flying was born....
Paul Heckles School of Flying 
Whilst remaining at Draycot Farm Aerodrome Paul relocated to a more suitable area for his base of operations, along with his drive to provide a better solution for all levels of students and a tremendous passion for flying, all the ingredients that Paul needed were coming together to successfully build the UK's premiere training school.
The next 5 years saw significant changes from simply providing one to one basic tuition to being able to offer training that could cater for a wider range of abilities and to facilitate our students other requirements such as model setups, test flying and a comprehensive building and repair service.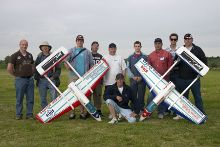 With the introduction of ever more technological advances in the modelling industry the school adapted quickly and embraced these new technologies. In 2005 the school ran its first successful fixed wing Jet Experience Day where a group of 15 pilots spent a day learning how to safely operate and fly a gas turbine model. Over 20 Jet Experience Days have been run to date. Jet training to individuals was also offered using our fleet of Boomerang Intro models fitted with both Jetcat and Wren gas turbine engines.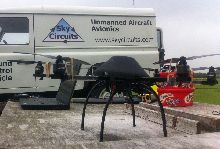 Around 2008 a new breed of flying machine started to appear, the UAV (Unmanned Aerial Vehicle). These aircraft came in all shapes and sizes - from camera ships to Multirotor machines and since their first introduction the school has worked with pioneers in this field. These included Southampton University, MOD, film producers, advertising and marketing agencies and private individuals, creating fascinating projects.

2013 and Beyond
It is without doubt that we have become much more than a flying school and to reflect this we have changed our name to Paul Heckles Flight Centre.
We truly feel that this change will not only continue to provide the high level of comprehensive packages our customers have come to expect but offer a new range of services that a different target audience will relish. We're certainly looking forward to our Flight Centre making even more memorable moments and interesting times ahead.
Whether you're an existing student already receiving our expert training, a new customer seeking coaching to improve your piloting skills or a professional body, organisation or privateer looking for a partner to assist in research and development we hope you enjoy exploring this website and we look forward to seeing you soon.